Williams, AZ – November 28, 2018
by Al Messimer
 Dear RATs,
This is to let you know that I have thoroughly enjoyed my rides with your group (although limited by my Williams' location and several health issues over the past 5-years). Whenever I recall riding with you, I get a big bug eatin' grin on my face and wish I could have participated more. Victor, our fearless leader, has been the focal point, friend and motivator for me, and I will always cherish the thoughtful, well-planned rides and camaraderie he has managed to quietly inspire through the years. Thank you, El Presidente. 
 Here is a prophetic photo, taken by Victor on a RT-66 ride near Oatman. He was surprised about the heavenly light that he inadvertently captured, while he was thumbing through that day's photos the next morning at breakfast in Laughlin. It is a photo I treasure.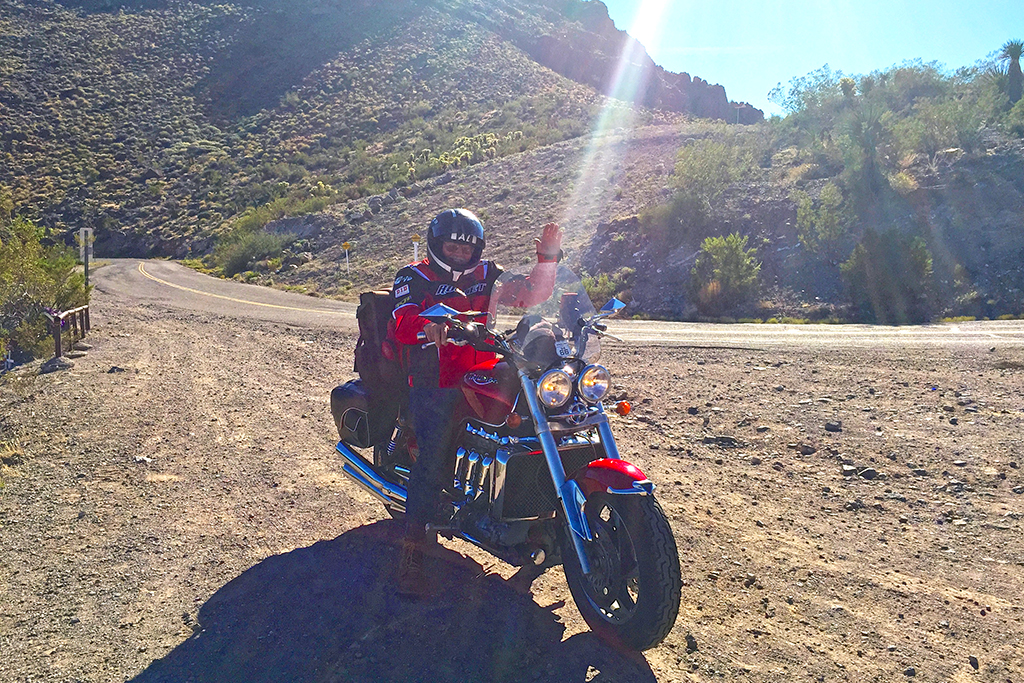 Prophetic? Well, I just learned that I have stage 4 pancreatic cancer and have taken my last ride; at least until that day comes when "I see Angels on Ariels in leather and chrome, Swoopin' down from Heaven to carry me home." – Richard Thompson – '52 Vincent Black Lightning. Please note that this is not a sad time for me. In fact, offsetting the pain there is peaceful joy of loving family and friends and I am looking forward to riding the twisty-bits awaiting me in eternity, on a ride none of us can even imagine. The sad part is obvious, unfinished plans to fulfill, and leaving my precious wife, PJ, to deal with her unexpected loss. She is strong in the Lord, and we have many family and friends in our small town, so I am confident she will manage. 
However, one of the things I know about heaven, that is no mystery, is that 'You can't take toys with you'. Which brings me to the purpose of this message. I would not like to leave my treasured Rocket III Roadster for PJ to deal with after I'm gone. It occurred to me that someone in the AZRATS community just might be interested in giving my favorite ride a new home. 
NOTE: Because it is one of the most elderly of any 2005 Rockets (with over 115,000 miles), and currently has some intermittent starting issues, it may, at first glance seem like a basket case. Fortunately, it has a history that comes with it in the form of being promoted by Dan Gurney and Ted Simon (Jupiter's Travels), both of whom collaborated on my book IDIODYSSEY – 50 Borders in 15 Days. Contact me by email for a pdf copy if interested. 

 Dan Gurney – who challenged me to do the IDIODYSSEY ride – And the wonderful man who inspired my writing – Ted Simon 
In fact, Dan Gurney (legendary racecar driver, builder and creator of the Alligator motorcycle), after reviewing my book, persuaded the organizers of The Quail Motorcycle Gathering in 2012 to invite me to include my Rocket to be judged in the Concours d' Elegance that year (his generous way of helping me promote my book).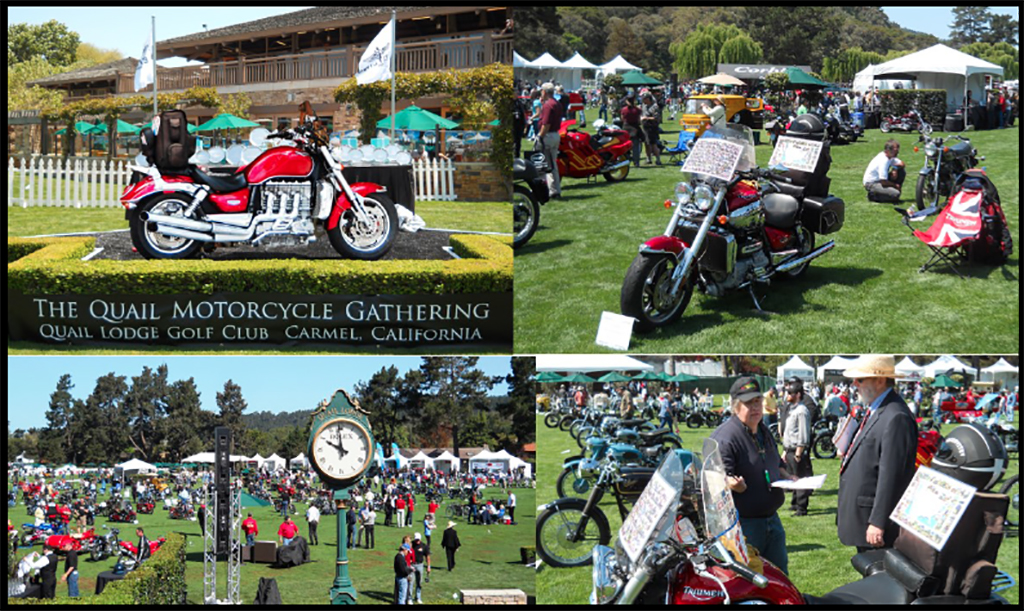 It did not win its class, but as an official entrant I was blessed to take the traditional 100-mile tour of the Monterey Peninsula, along with the other historic machines, ending with 3-hot laps of Mazda Laguna Seca Raceway! Can you imagine cresting 'the Corkscrew' at speed on an 800 lb. bruiser cruiser? Well, I did, and would like one of you to have the opportunity to cradle that 2,300 cc, 140 hp @ 145 ft/lbs monster triple between your legs for a grin. In the 14-years since I bought it new, it never fails to push my eyeballs back when I twist the grip. 
FYI, my last ride was in mid-October, before I was scheduled for major surgery. By that time, I had lost 50 lbs. and was very weak, but I wanted to just clear my mind with a (final?) ride through the forest, south of my home. There is a secret piece of that two-lane road that is never under speed control, (except for the occasional elk or deer) and I've used it in the past to let the Rocket, well…be a missile. The 'Ton' is simply too easy, so I just let the beast do its thing until the tell-tale results of velocity and air pushed both mirrors back parallel to the yellow line blurring in my visor. Yes, after all those miles, this machine can still peg the speedo at the factory limited 141 mph, as advertised back in '05!☺ In the event you think that was a crazy thing to do…. well sure! But I enhanced my chances with twin deer whistles (hoping elk have similar hearing senses). When you know time is short, and who is in charge, there are risky things you just gotta do. 
Finally, this bike has always been a rider, never a trailer queen, and I hope whoever wants to adopt her will be of the same mind. She is currently resting in my shed but will be so happy to be out on the open road carrying someone who appreciates the instant responsive grunt and break neck velocity resulting from a fully twisted grip. Are you that person? 
If you are so disposed, I would be pleased to discuss it in more detail with you by phone at (714) 336-1284. 
May God bless each of you with the best ride ever, 
Al Messimer (couchrocket3@gmail.com) 
Note from El Presidente:
Al is an outstanding person with a genuinely good heart!  The photo that I took that he mentions was taken on our 2014 Route 66 Tour on the Sitegreeves Pass near Oatman.  Al was an instrumental part of our planning that year's ride arranging for dinner in his hometown of Williams at Wild West Junction owned by the then Mayor of Williams.  I also remember how excited he was that a friend of his attended the ride with his daughter in a Triumph Bonneville America sidecar rig.  Though he was an infrequent participant in our rides over the years, Al is well liked by those that know him.  Please take a moment for a prayer and good wishes to Al and his family through these tough times.  I hope a few of us can get together and ride up to Williams for a visit soon!