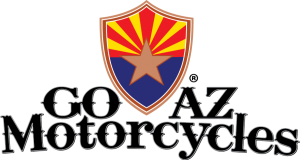 2023 GO AZ Motorcycles Ride Series
Program Details
We are happy to announce our full schedule of rides for 2023. Our sponsor dealer, GO AZ Motorcycles would like to encourage you to ride your motorcycle and are enthusiastic that you to do it with us, the AZRATPack! Here are the details of the GO AZ Motorcycles/AZRATPack Ride Series that will recognize riders that consistently participate in our rides. There are 3 levels of awards that will be given at our year end Holiday Party to riders that meet the criteria of the following award levels:
Aluminum – Riders that ride in all 3 single day rides this year: Mission San Xavier Ride (1/28), Sedona Ride (8/26) and Bagdad Ride (11/11)
Carbon Fiber – Riders that ride in all 3 overnight rides: TBD 2-Day Tour (3/25-26), 20th Anniversary Tour (5/18-22) and Route 66 Tour (10/6-8)
Titanium – Riders that ride all 6 rides in calendar year 2023
To qualify, you must be a paying member, start at the designated start point for each ride and completely fill out the ROL/Waiver form legibly.
We encourage all levels of riders to attend our rides. Just be sure to read through the itinerary, check the routes by downloading the PDF maps and turn by turn directions. In the description of every ride we always include what skill level the ride is right for along with what to expect along the way. With this information, you should be able to determine whether the ride fits your skill level. If all fails, attend one of our Breakfast & Dinner Events and ask questions!
Our Breakfast & Dinner Events
Curious about or new to the club? These events are perfect for you to meet fellow riders and ask questions about our ride events. Ask anything about prep, route details and how we conduct our on road events. There are normally board members in attendance that are great resources along with our membership.
New to the area? Attending our Breakfast & Dinner Events are a quick way to get to know the Phoenix and outlying areas along with discovering great spots to have a meal. We usually try to stay away from big, national chains and focus on local, independent spots, many of which have have been featured on the Food Network.
Our Upcoming Events